How to optimize your portfolio for the tenant experience
Upgrade your building management with enticing tenant experiences, flexible workspaces and innovative proptech
The workplace has reached an inflection point. With the rollout of hybrid policies and the technology to support them, building owners understand that today's tenants have the upper hand how—and when—their office works for them.
In this new world, many employees want the convenience and flexibility they can get from working at home yet crave the collaboration and sense of community that comes with the traditional office space.
Employees hold an unprecedented amount of power, and building owners and investors are embracing the changing needs of tenants and the idea that their preferences will fuel the new definition of an office building. Now, the office must be a destination and an experience—a reason to leave the comfort of home.
Asset, portfolio and property managers must incorporate hospitality services, amenities, sustainability and seamless tech experiences into their properties to adapt to changes in tenant demand and lure workers into the office.
Here are three things to consider as you adapt your portfolio to the unique needs of today's tenants:
---
1.  Design and offer cross-functional, flexible workspaces that evolve with your tenants
As tenants call for increased flexibility to meet the demand of dispersed teams and hybrid environments, flexible space can help make an asset more competitive in the market. Tenants are seeking formats that offer dynamic, turnkey, and fully reconfigurable spaces that add value for tenants.
Pandemic-related uncertainty, changes in employee preferences and tenants' increased need for agility are driving a surge in interest in flexible space options. JLL's 2021 Global Flex Space Report reveals that 41% of tenants expect to increase their use of flex space as part of a post-pandemic work strategy.
Right now, most offices remain largely traditional, yet 60% of corporate clients plan on having flexible space as a component of their portfolio moving forward. In fact, JLL predicts that 30% of all office space will be flexible by 2030.
Building resiliency based on flexibility
Owners and investors are incorporating flexibility and hospitality services into their portfolios to adapt to changes in occupier demand. But it's not just tenants that benefit. Integrating flexible space into buildings drives foot traffic, incubates leasing prospects, and expands the amenities available to tenants.

Flex can also act as a shock absorber for future tenant needs, allowing for overflow when clients are expanding, contracting, or simply reevaluating what office space means to them. Adding flex to your asset strategy can be advantageous because it enables you to create environments that can adapt and morph to changing occupier needs, no matter what stage of the business lifecycle they're in.
Flex space solutions are an integral part of customizable office portfolios. With the flex office space market poised for more rapid growth, innovative new deal structures are being introduced that mitigate risk, maximize return potential and confer greater control of space and customer relationships to landlords.
2.  Activate common areas for tenant experiences that entice and engage
To attract tenants, property managers need to take a cue from the hospitality industry's focus on how amenities can inspire meaningful relationships between people and places. Zeroing in on concierge-style experiences and superior client services improves tenant retention and acquisition efforts.
Making the office a desired destination was crucial even before the pandemic upended the way employees and tenants interact with the office.
Evolving employee attitudes and expectations mean the definition of amenities is changing. It's not enough to provide tenant lounges, rooftop green spaces, and state-of-the-art gyms. Now, tenants and their employees expect programming, pop-ups, interactive exhibits, and community events that foster a cohesive culture of belonging.
Tenants now demand "space as a service," an amenity- and experience-rich approach to workplaces. Property managers improve tenant retention and acquisition efforts by focusing on the tenant experience and offering superior client services.
---
---
Create workplace experiences worthy of the commute
By creating engaging experiences in your asset that workers can't access at home, employees feel like the office is worthy of their commute, time and energy.
Chicago's Old Post Office is a prime example of how the largest adaptive reuse project in the country takes the tenant experience to the next level with sleek and spacious lounges, ample green space and a rooftop oasis. But that's just one part of the equation. Now, landlords must consider solutions that enhance and simplify tenants' lives.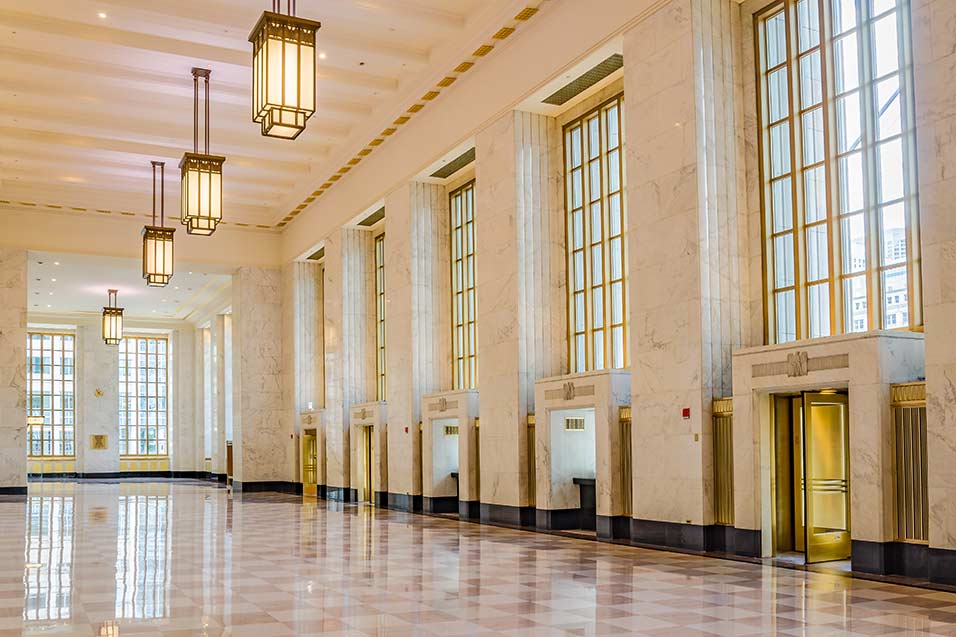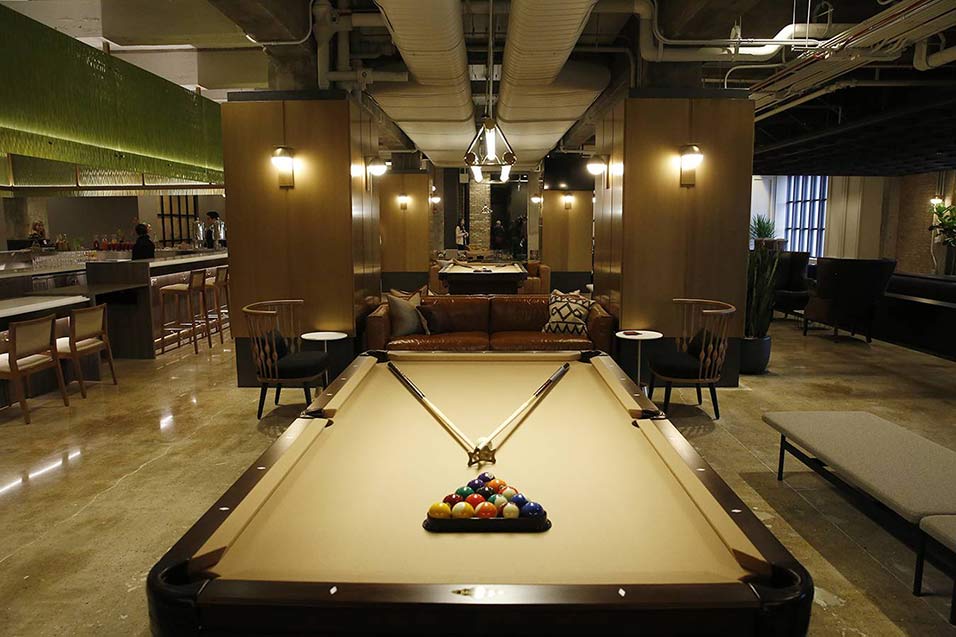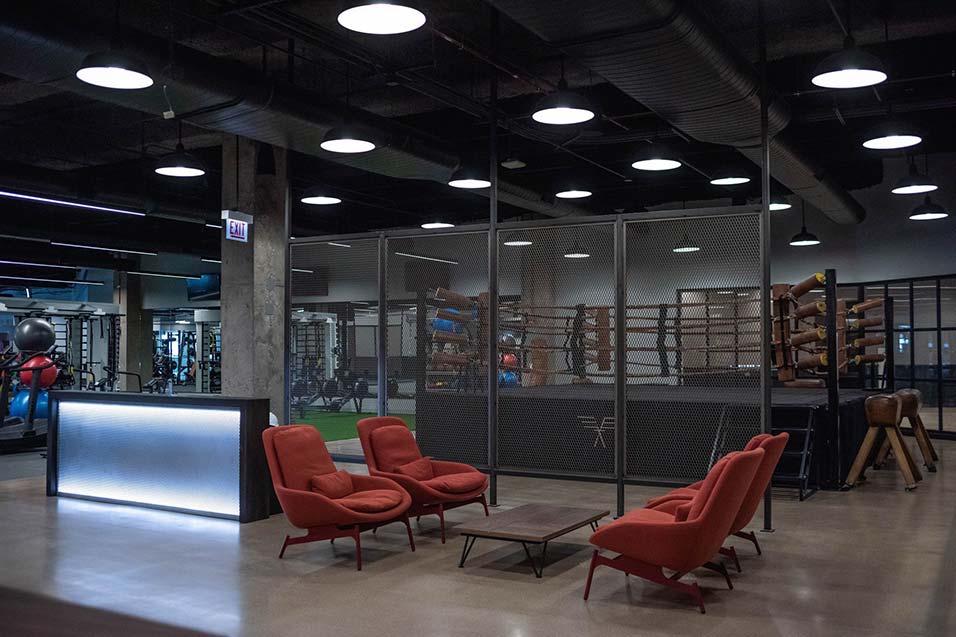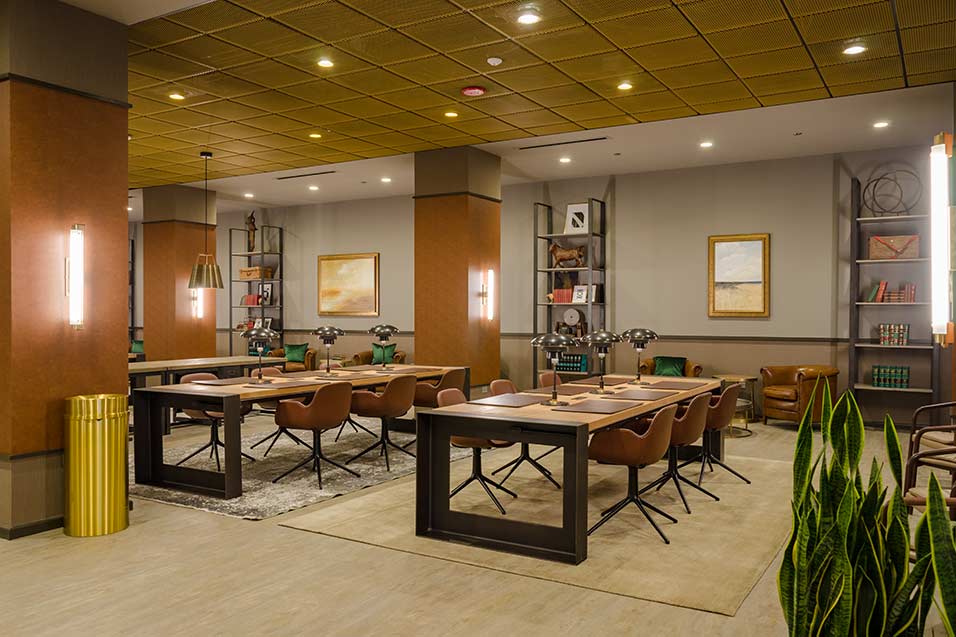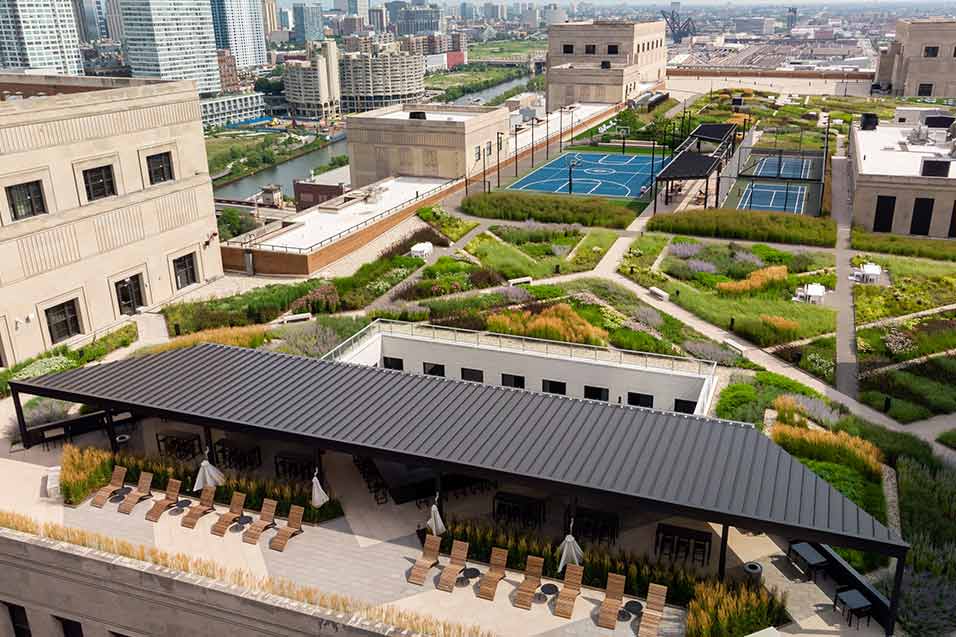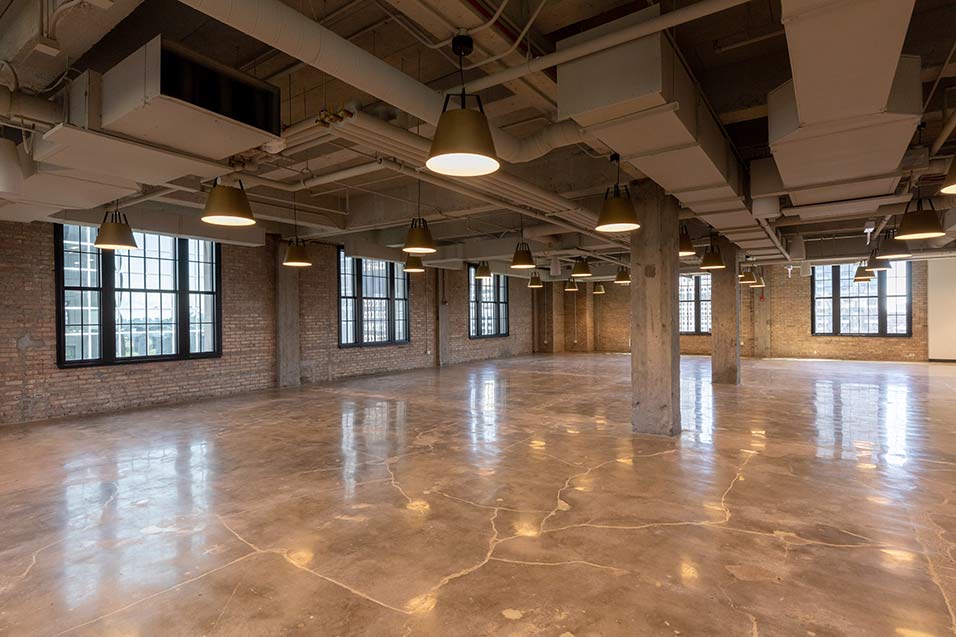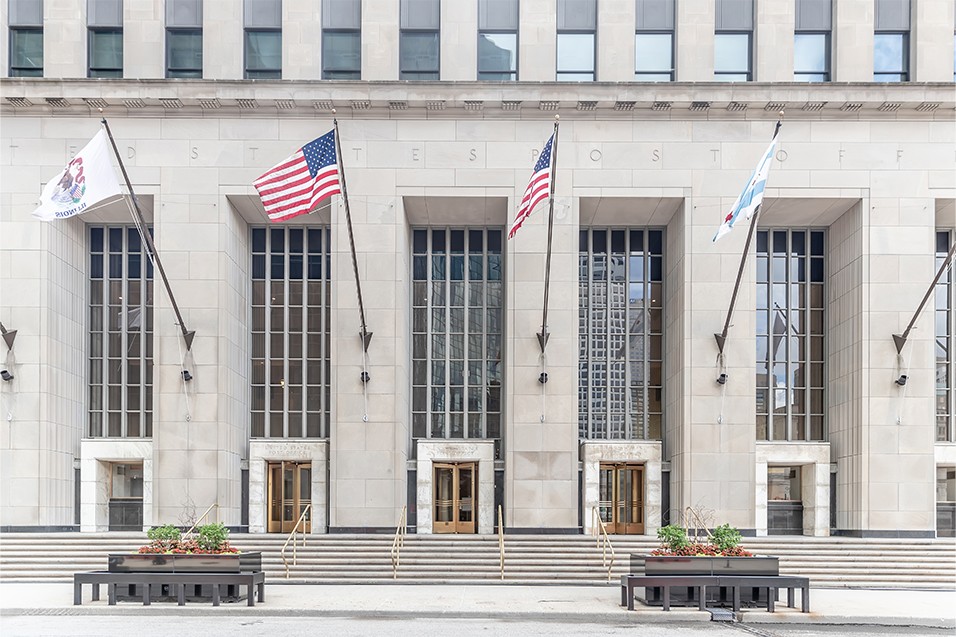 To ease employee return to work, a growing number of office managers are using mobile apps that connect office tenants to maintenance and logistics systems, community-building programs and security features. These apps provide everything from room bookings to individualized temperature and lighting controls to maintenance and service requests.

Chicago's Aon Center houses the city's highest amenity space for tenants. Once a 34,000-square-foot traditional office space, the 70th floor of the Aon Center—aptly named Cloud Level—is an amenity floor open to all employees who work in the building. The Cloud Level is comprised of three revenue-generating components that offer tenants panoramic views of the city, dynamic workspaces, a gym and café, a bar and a game room. Recent space activations include a 'yoga in the clouds class,' a Lollapalooza pre-party complete with glow sticks and DJ and a free hot chocolate and ice sculpture carving demo.
Watch this four-minute video to see how Aon Center uses experience to turn an office building into a destination. 
Experience management (XM) drives Net Operating Income (NOI) and leasing by creating a captivating approach that gets the most out of your amenity space. JLL's XM experts transform spaces into activated environments where tenants can relax, re-energize, brainstorm, or break their daily routines.
3. Invest in proptech that provides secure, frictionless access and streamlines operations
As the workplace transforms itself to facilitate hybrid workforces, the design and function of the office—and the properties they are in—will need to adapt, with technology playing a core role.
Offices will have to support a greater range of hybrid and work-from-anywhere models requiring robust digital connectivity and infrastructure with the capacity to adjust to new technologies, from IoT connectivity to 5G.
Technology helps asset managers transform how they acquire, manage and operate space. A successful property technology (proptech) ecosystem requires a comprehensive platform for property management, delivers services critical to asset performance, and provides intelligent insights to improve key performance metrics.
In response to increasing requests for flexibility and simplicity amid a shift toward hybrid working, landlords are bundling utility, internet and tech services as packages and selling them at a lower price rather than separately—similar to insurance companies.
Utilize AI to decrease operating costs and increase sustainability
Creating places that support the safety, health and well-being of workers is a top priority for leading occupiers and investors. At the same time, carbon reduction and efficient operations are a business, regulatory and planet imperative.

An in-depth understanding of how workplaces are being used will help inform strategic decisions around portfolio optimization and the planning and organizing of space. This will require technology for monitoring how space is being utilized, benchmarking this information and communicating key insights in an accessible way.
 
Harness the power of data to ramp up sustainability efforts
There is mounting pressure from all stakeholders in the real estate industry to contribute to lower-carbon and more resilient buildings and cities. With building operations contributing 28% of global GHG emissions, managing energy performance in existing buildings will be essential in meeting net-zero carbon commitments from investors, tenants, landlords and governments.

Tracking energy performance and operational data is the first step in managing building sustainability. Advanced proptech, capabilities enable much more granular and automated management of building operations. These include dynamic lighting and heating, predictive space management, and predictive maintenance that can reduce costs and prolong the useful life of a building's working parts.
As property owners sharpen their focus on implementing sustainable solutions that also improve tenant experience, new AI-powered platforms are emerging to help clients operate more sustainably with improved energy efficiency, air quality, and tenant comfort. These platforms solve many of the commercial real estate industry's property management woes, ultimately delivering increased NOI to investors. To provide the best occupant experience while reducing operating costs, it's essential to utilize the most modern building operations software platforms.
 
Designing a hack-proof building
With new tech and hybrid workforces, creating a proprietary environment for systems that are physically and digitally secure is more important than ever.

Tenants want secure, frictionless access and data continuity wherever they open their laptops, look at their smartwatches or check their phones. Building owners need to implement technology that allows for collaboration and connection within a connected tech ecosystem. But the same innovative remote-access systems and smart thermostats that add convenience and enhance property management are vulnerable to cyberattacks.
To safeguard their assets and the tenants that occupy them, landlords need to provide a digitally secure environment that accounts for the growing number of IoT devices used within office buildings.